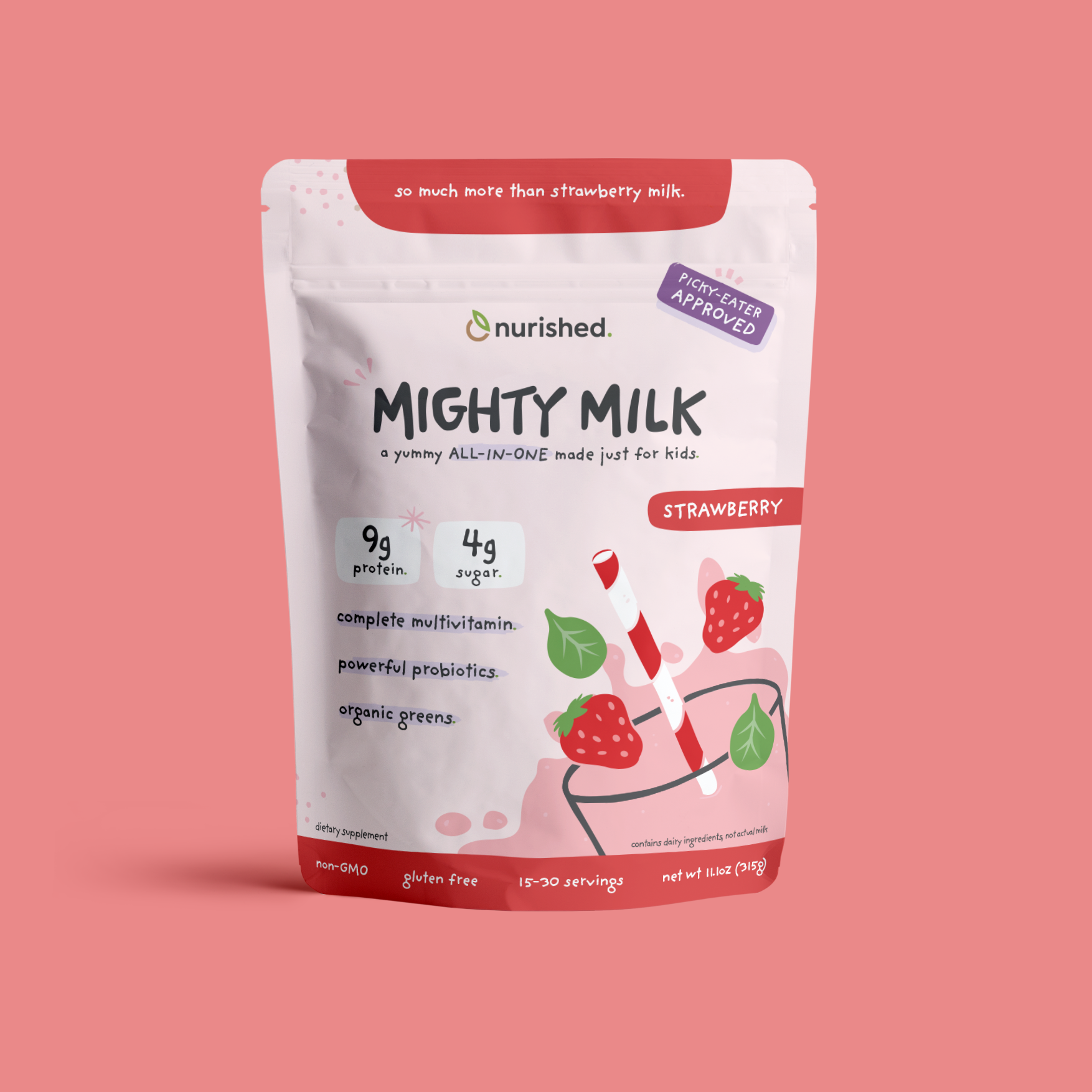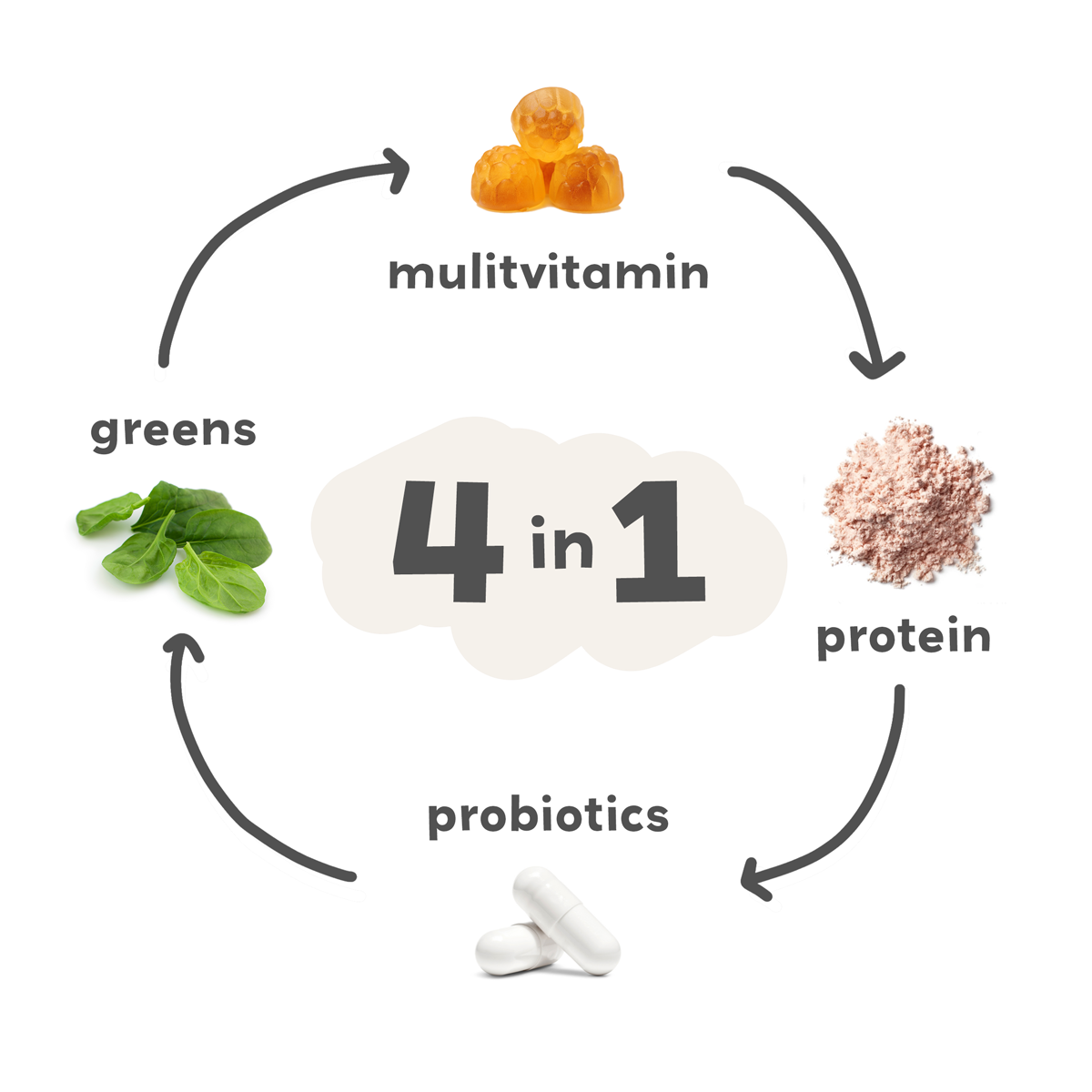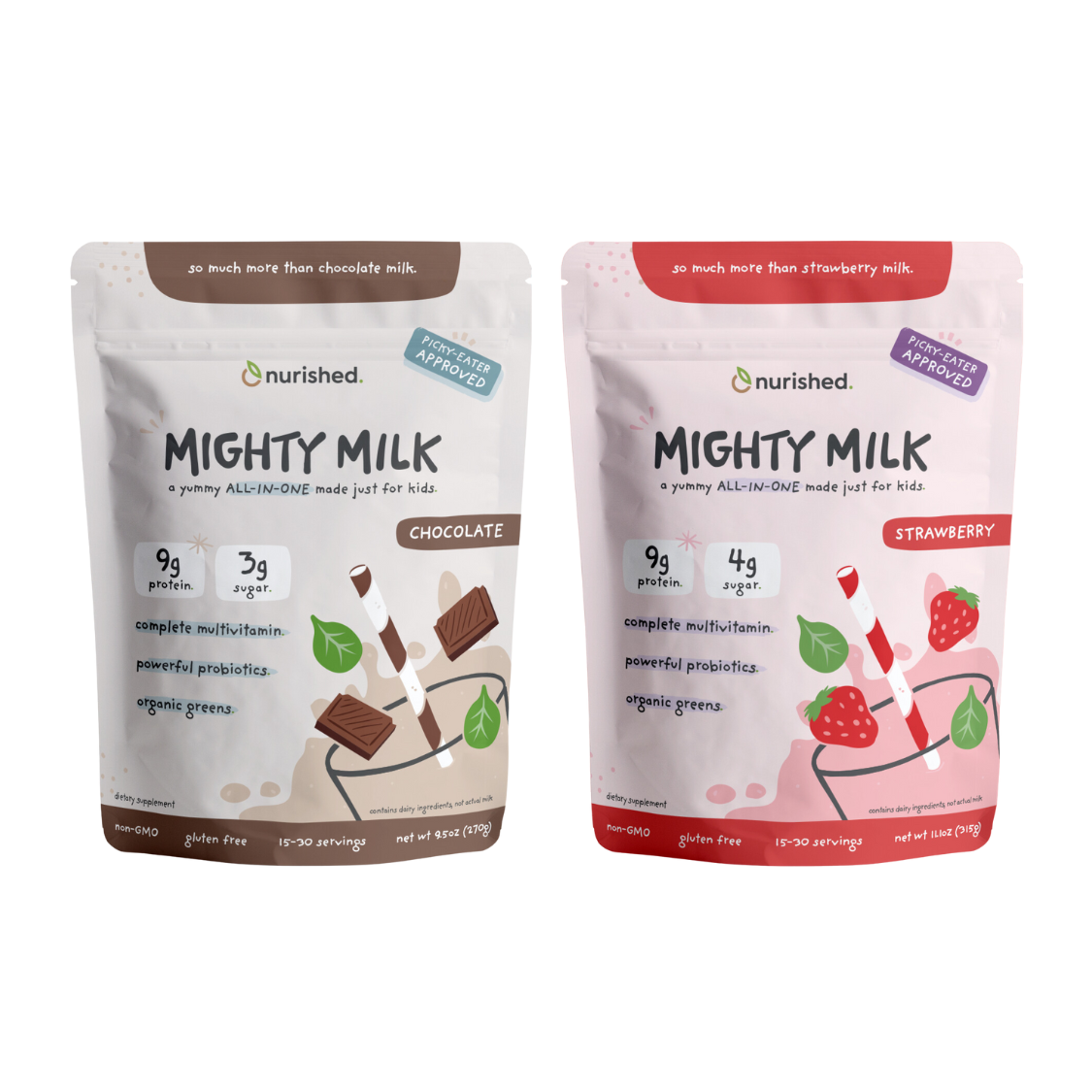 Mighty Milk
---
What it is: An all-in-one powder for kids. 9g of protein, organic spinach leaves, 2 billion probiotics, complete multivitamin, and essential digestive enzymes in every serving.
Why we made this: Our kids loved drinking flavored milk. The problem? The high sugar content and limited health benefits left us wanting more. We searched for healthier options but all fell short of providing real nutrition and a great taste. We created a better option with added protein essential for growing bodies & less sugar. We added greens they can't taste, probiotics for a healthy tummy, a complete blend of essential vitamins & minerals, and a natural flavor kids LOVE.
Ages 1-3: Mix 1 scoop with 4-6oz of your favorite milk or milk substitute. Mix well. Enjoy.

Ages 4+: Mix 2 scoops with 8oz of your favorite milk or milk substitute. Mix well. Enjoy.

Mixes best when shaken or frothed.
everything kids need, in ONE glass.
it's all in here.
✔ Growth Support
✔ Brain Development
✔ Gut Health
✔ Fruits & Veggies
✔ Immune Support
✔ Digestion
essential for growing bodies.
Protein is one of the most common deficiencies among kids and vegetables aren't always their favorite. We've made a chocolate milk that provides protein, organic spinach leaves, and a taste kids love.
a true all-in-one for kids.
Healthier shouldn't be harder. As parents, we're familiar with the balancing act of health & convenience. In just one product, we've combined a complete multivitamin, organic greens, probiotic, and protein for the best of both worlds.
here's what our customers are saying
don't take our word for it.
Fantastic service
I had a few obstacles in receiving my order.
Emily S. -- Nurished Team had patience and assisted me every step of the way. Thank you Emily, you will now have a long term customer.
My boys LOVE it!
Great ingredients and none of the fake stuff. Love that it tastes so great as well!
Yummy
My daughter found it delicious
It's delicious!
I wanted to buy some thing yummy but still nutritious for my nine-year-old son. He loves it and so do I we will definitely be buying more of this. Planning on trying it in strawberry flavor next.
LOVE LOVE LOVE!
The chocolate and strawberry were a massive HIT with both of my very picky-eaters... Will definitely be recommending to friends & family!!
questions? we've got answers.
What age can I give this product to my child?

Ages 1+. We always recommend consulting with your pediatrician before giving Mighty Milk to your child.
How long will it take to get my order?

We try to ship and process all orders within 1 business day. Our warehouse is located in Salt Lake City, UT and we can ship to most areas of the US within a few business days.
We are happy to accept returns of unopened items within 30 days of purchase. Send us a quick email with your order number to get started. Unfortunately, we cannot accept returns of items that have been opened. For first time customers, if your child doesn't love it we are always happy to replace it with a different flavor or product free of charge.
Milk, eggs, fish, shellfish, peanuts, tree nuts, wheat, and soybeans are the

top 8 most common food allergens

—and as such, they must be clearly listed on food labels, according to the FDA. Mighty Milk is free of all of these allergens except for milk and coconut, which is recognized as a tree nut.
The good news: According to the

American College of Allergy, Asthma & Immunology

, coconut allergies are very rare and most people with tree nut allergies can safely consume coconut without any trouble. To be safe, if you have a tree nut allergy, talk to your pediatrician before adding Mighty Milk or any coconut-containing products to your child's diet.
How do I use this product?

We recommend mixing 1 scoop with 4-6 oz of milk or milk substitute and 2 scoops with 8 oz. Because of all the whole food ingredients, it can be a bit more effort to mix than simply stirring with a spoon like you might do with Nesquik or Hershey's or traditional sugary chocolate milk. We recommend using our Mighty Mixer (or other handheld mixer), blending, or shaking. Pro tip: put an ice cube or two in when shaking to help break up the protein chunks!